Welcome to Kamiyashiro eye clinic home on the web.
We provide comprehensive health care by eye specialists.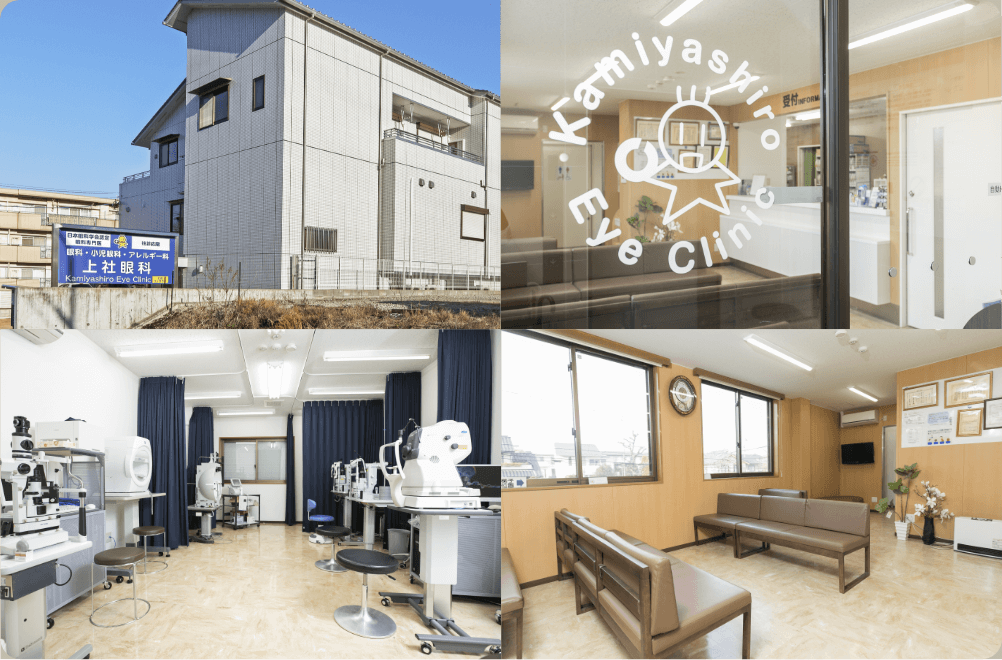 Our clinic offers the most advanced and comprehensive treatment for all eye conditions.
The "EYE " is the ONLY ORGAN that allows experts to view all the vessels and nerves directly.
It is no exaggeration to say that the condition of the eye can reflect medical and physical conditions.
Plaease bring your prescription book (Okusuri Techou), and Diabetes Record( If you have) so that we can
view any medical conditions or medicaiton you are currently receiving.
Reception Hours
Mon
Tue
Wed
Thu
Fri
Sat
Sun
Hol
9:00~12:45 am
-
3:00~5:45 pm
-
-
-
※ We are closed on Sundays and all national holidays and close earlier on Wednesdays and Saturdays.Please check the schedule for details.
The Reception is closed 30 minutes before the examination ends.


9:00~12:00 am


2:30〜5:00pm
※Please make appointments by phone when you visit
We also accept patients who need urgent care. Please contact us.
Available
Medical
Treatments
We care for eye related conditions
General Ophthalmology
Routine eye exams for the entire family
Pediatric ophthalmology
Treatment of diabetic eye disease
Comprehensive glaucoma management
Consultations and second opinions
Low vision care
We care for allergic state through eye.
Consultation for anti-aging care for not eye but general conditions.
New Patient
(Please read below before visit)
For your first visit, please arrive 45 minutes before the reception closes.
~Please bring~
Health Insurance card, Prescription note (Okusuri-Techou), Diabetes record(If you have)
~Attention~
If you would like to have "eyeglass or contact lens prescription ", the dilated eye exam (why need this exam?) and have a letter, please visit at least 30 minutes before the reception closes.
This is so that we can provide you with the highest quality of care possible. We appreciate your understanding.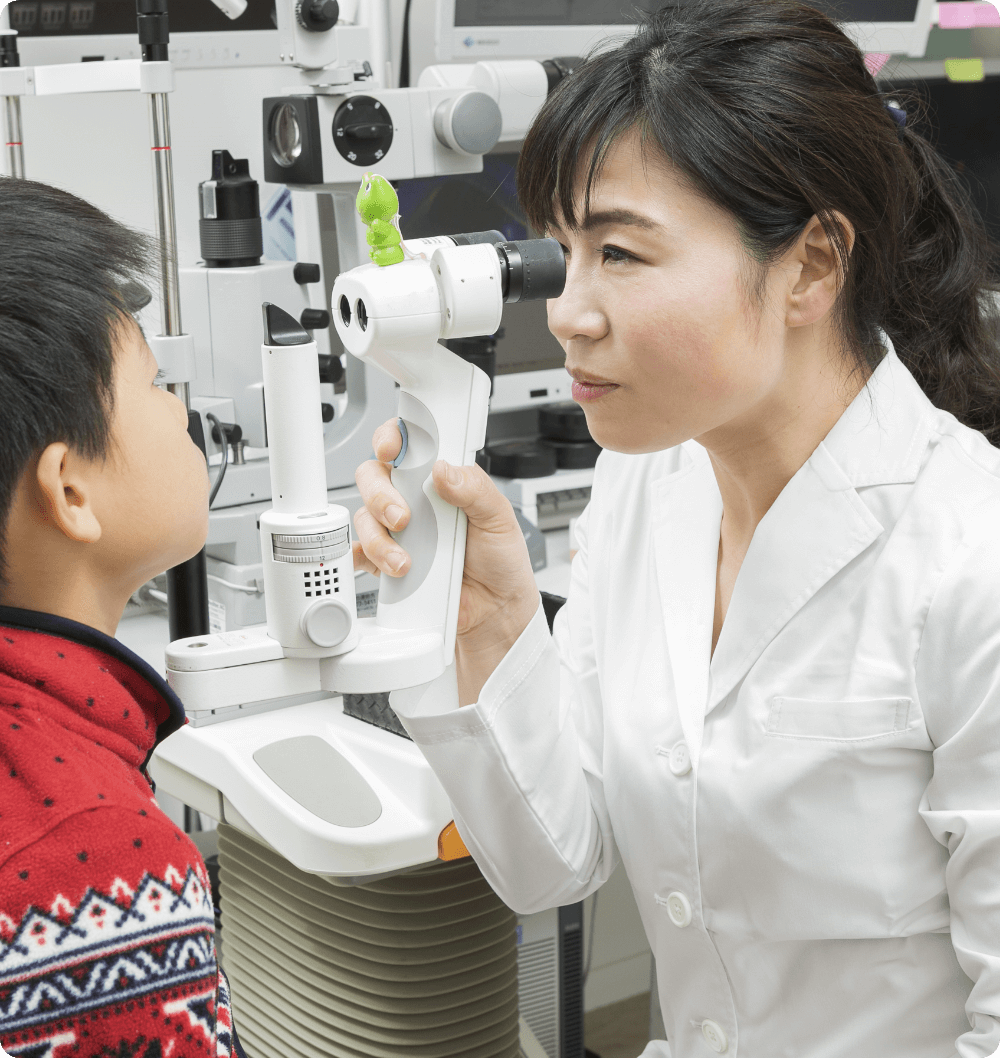 We all know dilation is inconvenient, blurs our vision, and makes us sensitive to the sunlight. We advise to bring your sunglasses to your visit.
Dilation usually lasts 4-6 hours, depending on the color of your eyes. Lighter eyes, such as blue and green, tend to be dilated longer than people with brown eyes. Even though dilation makes our vision blurry, it usually just affects our near reading and computer vision.
We recommend that patients with the dilation should not drive themselves home. So, please ask someone come with you for driving, or come walk yourselves.
It is important to have yearly dilated eye exams, especially if you have diabetes, a family history of eye disease, or are over the age of 40. If you would like to schedule an appointment, please call us at (TEL) your request.
Insurance is mandatory.
We have a duty to check whether the insurance is valid or not. If you cannot show valid insurance, we ask that you pay the full fee.
We can refund the extra-fee covered by the insurance if you show it in the same month.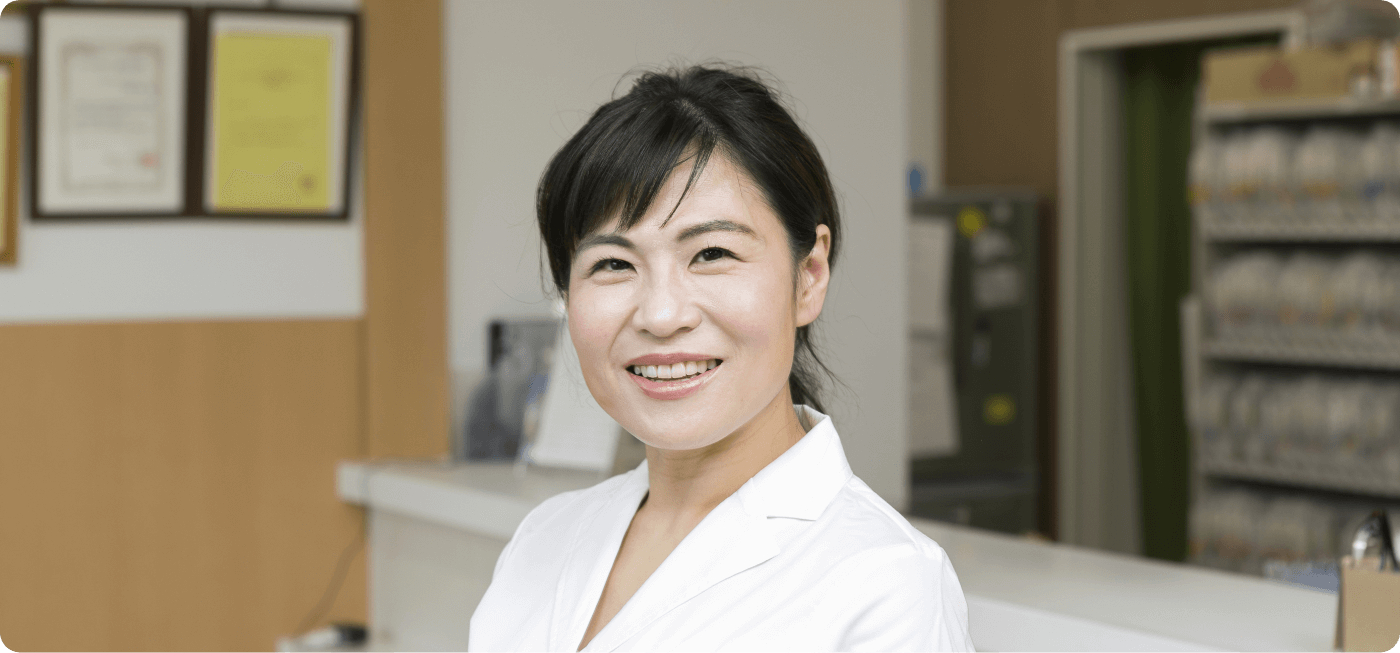 Hello, and How do you do.
I was born and raised in Nagoya.
Since I was a child, I want to help people and decided that I wanted to be a doctor from a young age. I am excited to open the Kamiyashiro Eye Clinic .
I have had a lot of help on my journey and I am so happy to be able to serve the community where I was born and raised.
As well as taking care of your eyes, we also care about your general health.
We care for our patients. We will discuss any other medical treatment you are receiving and with your permission, we will contact any other clinic or hospital you visit in order to provide you with the best most comprehensive care possible.
For many smiles and a high quality of life, we are working hard to become a clinic where patients feel comfortable to discuss any issues with us whether the symptoms are big or small.
Eye specialist authorized by the Japanese ophthalmology society
Anti-aging specialist  authorized by the Japanese anti-aging medicine society
Affiliation Society
Japanese Ophthalmology Society
Japanese Society of Anti-aging Medicine
Japanese Association for Pediatric Ophthalmology and Strabismus
Japanese Society of Allegology
名古屋第二赤十字病院(八事日赤)

Japanese Red Cross Nagoya daini Hospital

JCHO 中京病院

Chukyo Hospital

名古屋医療センター

National Hospital Organization Nagoya Medical Center

名古屋大学医学部附属病

Nagoya University Hospital
名古屋市立大学病院

Nagoya City University Hospital

愛知医科大学附属病院

Aichi Medical University Hospital

藤田保健衛生大学病院

Fujita Health University Hospital
etc..
I was Medical director of the department of ophthalmology at Chubu-Rousai-Hospital.
I graduated Shiga-medical University in 2004.
I completed an internal medicine internship at Nagoya Memorial Hospital ( at Tenpaku ward in Nagoya), an ophthalmology residency at Nagoya Univesity and general ( cataract, glaucoma and so on), retina vitreous and eyelid plastic surgery fellowship at Chubu-Rosai-Hospital.
My desire is to gain the highest levels of knowledge in medical care. So I continue to train and learn with the highest cornea and pediatric specialists, of which there are only a few in the Tokai area. I am also studying under the highest specialists of cataract, glaucoma, retina vitreous, plastic and reconstructive (oculoplastic) surgery.
I want my clinic to constantly evolve to make your experience as positive as possible.
Locations
( by Bus or Train)
By TrainYou can see the map when you put cursors together.
From Kamiyashiro Station:

Please go west from the Station, and turn left at "Kamiyashiro East " intersection. Go straight up the road to "Front of Idaka elementary school " and turn right. You can find our clinic on the right side.

From Hongo Station:

Please choose the West exit of Hongo station. after exit, go straigt down for 20m,and turn right to the nearest intersection, " Hongo 2 cho-me ".When you reach the intersection, please turn left and go up the hill. Through your walk, you can see Meito-Ward Office on the left side. At "Meito-Ward North ", turn left.With 1-2 mimutes walk, you can find our clinic on the left side.
Kamiyashiro Eye Clinic
2-3-1 Kamiyashiro Meito-ward Nagoya, Aichi Japan 465-0025